If you're looking for a quick, easy, and light weight way to include some additional storage on your vehicle, our M.A.S.S. Spare Tire Platform (STP) could be the perfect fit.
NOTE: The optional Ratchet Strap Kit listed above is not required. You can use traditional ratchet straps to mount the platform. However, the kit provides the most efficient and effective means of securing the platform to the tire.
Accessory Mounts
We are working on a line of accessory mounts that will include:
MAXTRAX Traction Boards
Rotopax Fuel and Water Containers
Shovel
Axe
Cappuccino Maker (fake news)
NOTE: The cutouts in on the sides are specifically designed for the RockSlide Engineering EZ Rack.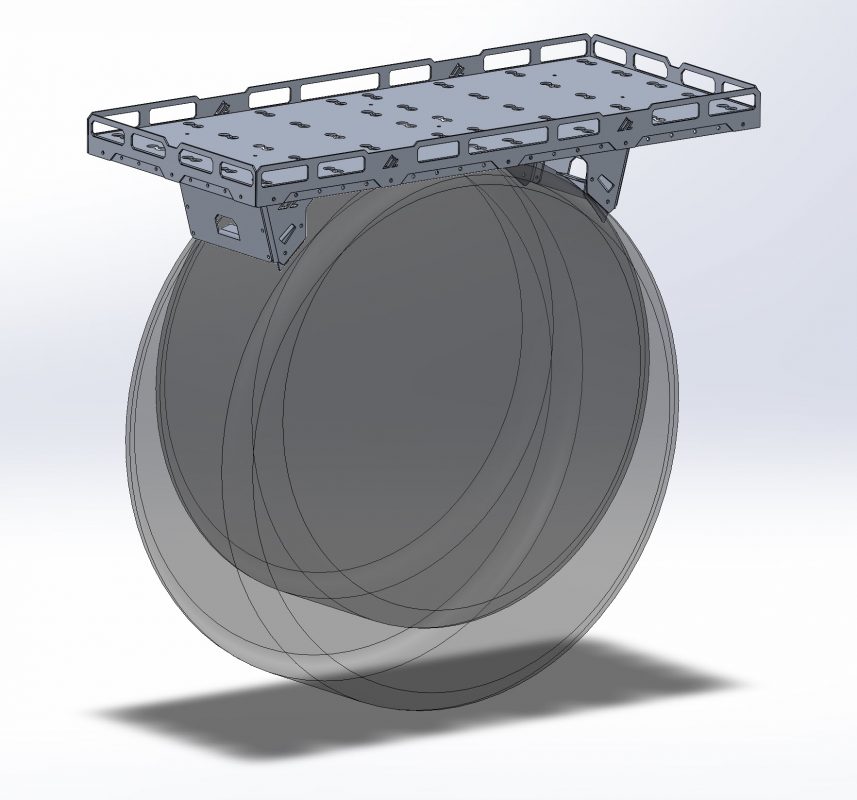 Compatibility Note
Our STP works very well with the RockSlide Engineering EZ Rack. This product was specifically designed with the EZ Rack in mind.
Check out the EZ Rack product page for more information.
Secure Your Cargo
With our M.A.S.S. system, you can use high quality cargo management components to keep your cargo secure. The single stud tie down ring below is a good option if you want to use traditional tie downs. The downside of those is if your strap loosens or load shifts and you're using an open hook, your straps can fail.
The ratchet strap kit listed below includes single stud connectors sewn into both ends of the strap, maintaining a great mechanical connection between the strap and the platform. If your load loosens, your straps will not be lost and you can easily re-secure the load. See the photo gallery below for some examples of how to incorporate these products.
Product Photo Gallery