If you have ever needed just a little more cargo space or a place to attach something to your vehicle that doesn't need to be inside, our M.A.S.S. Spare Tire Platform Mini will get that done for you.
For those of you that have been wanting the STP but don't have big enough tires here is the new STP Mini, the perfect way to hold cargo and mount to those smaller tires.
Keeping with our high standards for materials selection, the STP Mini is made from 1/8″ 5052 aluminum and is super lightweight. The STP Mini is designed to fit most 27″ to 35″ tires.
It can be secured with ratchet straps running around the circumference of the tire and laterally through the wheel for maximum stability. Mounting laterally through the wheel is the preferred method.
Most 1″ ratchet straps can be used, but we also offer an optional set of the best tie downs available, Mac's Custom Tie Downs. These are continuous loop straps that are specifically designed for our Spare Tire Platform. They are custom made with your preferred strap color and are drop shipped directly from Mac's. These also include a set of Cordura sleeves that help protect the wheels.
Highlights:
Made in the USA
Completely made from 1/8″ 5052 aluminum
Super Lightweight
Interior Dimensions:
38 1/2″ Wide
16 3/4″ Deep
Designed to fit most 27″ to 35″ tires
NOTE: This shelf is designed to handle weights up to 100lbs evenly dispersed over the entire platform. However, this is highly dependent on the mounting method for your spare tire. To achieve maximum weight capability, it is important that your tire be mounted to a sturdy swing out tire carrier (not directly to the tailgate).
NOTE: The optional Ratchet Strap Kit listed above is not required. You can use traditional ratchet straps to mount the platform. However, the kit provides the most efficient and effective means of securing the platform to the tire.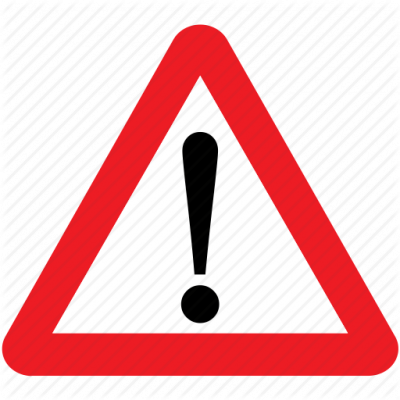 Important Powder Coating Note
Powder coating is a manual process done by humans and may take some time. When you purchase powder coated products from AAL, we coat them for your order. Occasionally, that means delays with non-standard colors, resprays for less-than-perfect conditions, etc. We have a very high standard with powder coated products. We will work to get your parts coated in the best condition possible before they leave the building.
Please visit our Powder Coating Page for more info.
New Release – Tracks Rack
Our new Tracks Rack is a great way to secure additional cargo to your traction boards. The Tracks Rack does NOT require our Spare Tire Platform – it mounts directly to the traction boards.
View Product Page
New Accessory Option
Quickly add some external dry storage to your STP. These Drybox Adapters allow you to mount these red dry boxes (available at your local Home Depot) in a place that is easily accessible on the trail. This is a great place for a first-aid kit, small recovery gear (soft shackle, gloves, etc.), etc.
These are available as an option above. Sold in singles (one adapter).
View Product Page
Accessory Mounts
We are working on a line of accessory mounts that will include:
Shovel
Axe
Cappuccino Maker (fake news)
NOTE: The cutouts in on the sides are specifically designed for the RockSlide Engineering EZ Rack.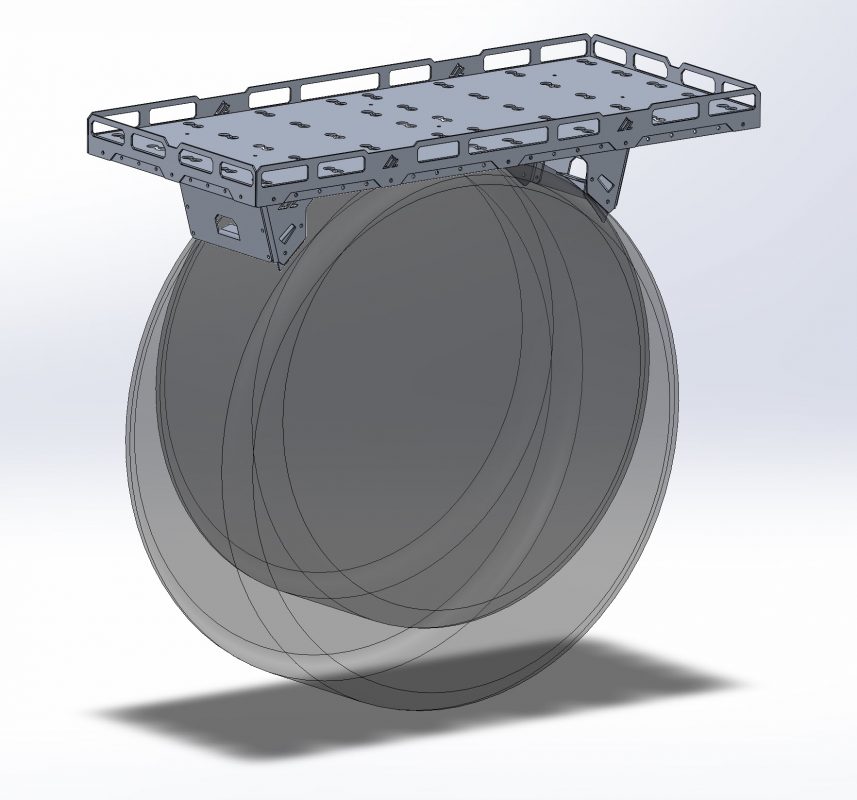 Compatibility Note
Our STP works very well with the RockSlide Engineering EZ Rack. This product was specifically designed with the EZ Rack in mind.
Check out the EZ Rack product page for more information.
Spare Tire Strap Separator
There are a handful of wheels out there that do not have holes in them (ex. Black Rhino Armory/Barricade). If you have the need or desire to run your straps around the outside (circumference) of the tire, our Spare Tire Strap Separator (STSS) will keep your straps located in a safe orientation along the tire. These can be used in a pair (will need to purchase a quantity of 2) to securely lock down your straps.
View Product Page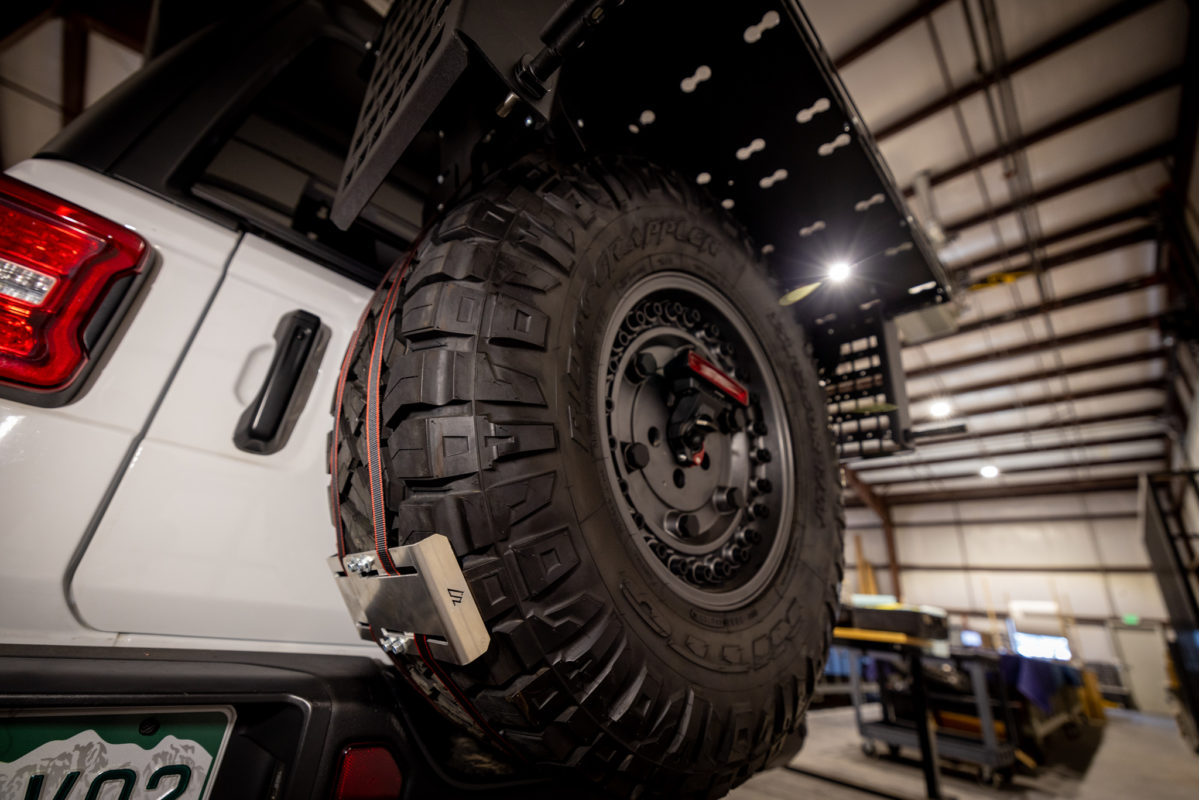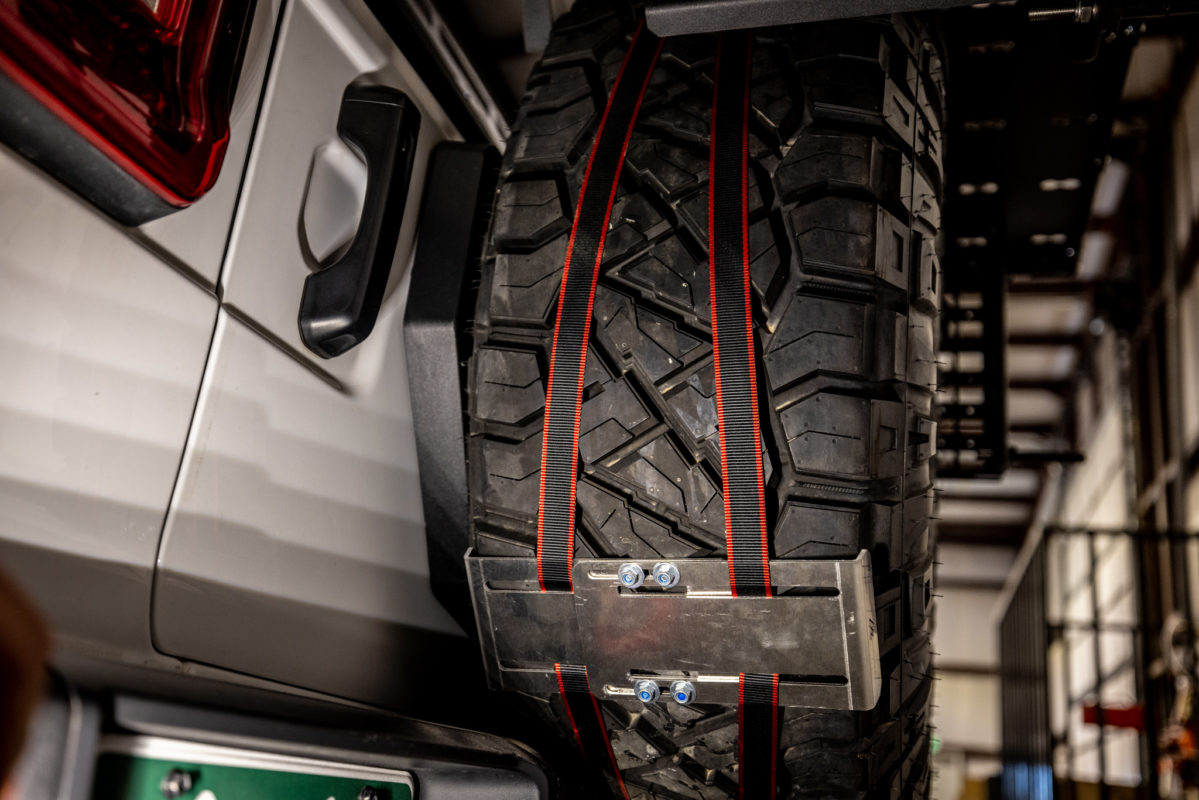 Secure Your Cargo
With our M.A.S.S. system, you can use high quality cargo management components to keep your cargo secure. The single stud tie down ring below is a good option if you want to use traditional tie downs. The downside of those is if your strap loosens or load shifts and you're using an open hook, your straps can fail.
The ratchet strap kit listed below includes single stud connectors sewn into both ends of the strap, maintaining a great mechanical connection between the strap and the platform. If your load loosens, your straps will not be lost and you can easily re-secure the load. See the photo gallery below for some examples of how to incorporate these products.