The Dometic CFX3 45 is close to the largest fridge you can get in the rear cargo area of the Jeep JL and JK. It is definitely one of, if not the most, popular option on the market. Dometic has made top quality portable refrigerators for many years and that's the reason you will see them in the back of a lot of overlanding vehicles.
With incredible power efficiency, Bluetooth remote capability, light weight, high durability, and good looks, this fridge is hard to beat.
The CFX3 45 shares the same footprint as the CFX3 35, but is slightly larger in height (approximately 2.75″). This fits nicely with our M.A.S.S. drawer stack below the M.A.S.S. cargo shelf in the Jeep JLU.
Maximum Efficiency and Capacity
You can store an incredible amount of fresh food and drinks in the Dometic CFX3 thanks to the internal compartment design. The CFX3 eliminates the dairy compartment, which means more room for all your favorite foods. Choose how you organize the space with a removable wire divider and enjoy a more even distribution of cool air with the extended evaporator, now on all inner walls of the unit.
[/col]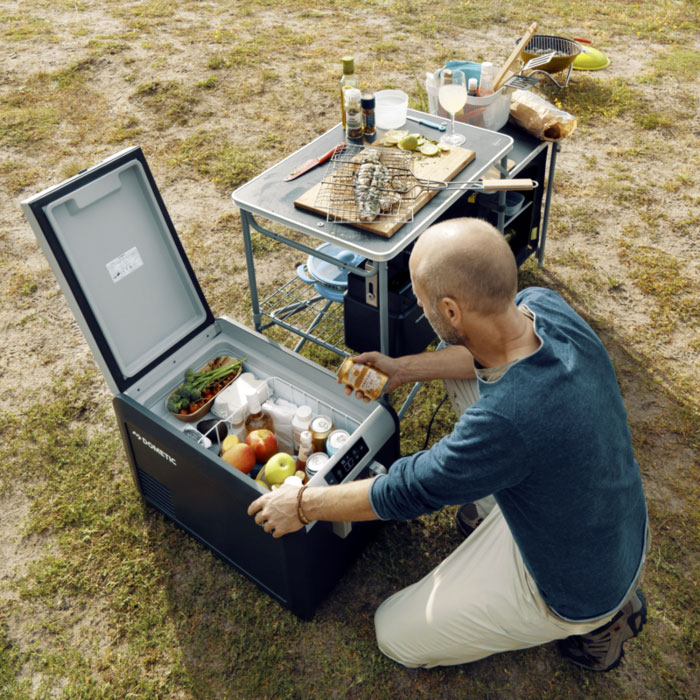 [/row] [/section]