On-board air is an absolute necessity for a properly equipped off road vehicle. The engineers at Jeep unknowingly created the perfect location to store a dual ARB compressor. The space beneath the floor of the rear cargo area in the new Jeep JLU provides a dry, secure, and sound deadened space to store your compressor. Our Jeep JL Compressor Relocation Bracket provides the structure to safely secure your compressor in this location.
New for 2020 is our Jeep JL ARB Compressor Remote Kit. Improving on the already convenient location of the compressor, our remote kit brings all of the functionality of your compressor to an easy to reach location just behind the driver c-pillar at the rear of the cargo area. Neatly tucked out of the way of damage, the remote bracket houses both filters allowing the compressor to bring in fresh cool air which keeps the compressor running efficiently. We also include a quick-release ARB hose coupler. If you have ever used one of these couplers, you know these are the absolute best couplers on the planet. The switch for the compressor is also mounted into the remote bracket, putting everything you need access to for your onboard air needs in one location.
NOTE: The photos show the filters and switch from the ARB Dual Compressor Kit. Those are not included in this product; they come with the compressor.
Integrated 6-Way Fuse Box (Optional)
But wait, there's more!!! (said in my best Billy Mays voice) We also have an optional auxiliary fuse box that can be mounted to the remote bracket. If you are also using our Odyssey PC1100 battery mount, this auxiliary fuse box will be very handy, allowing you to wire in several accessories in one convenient location.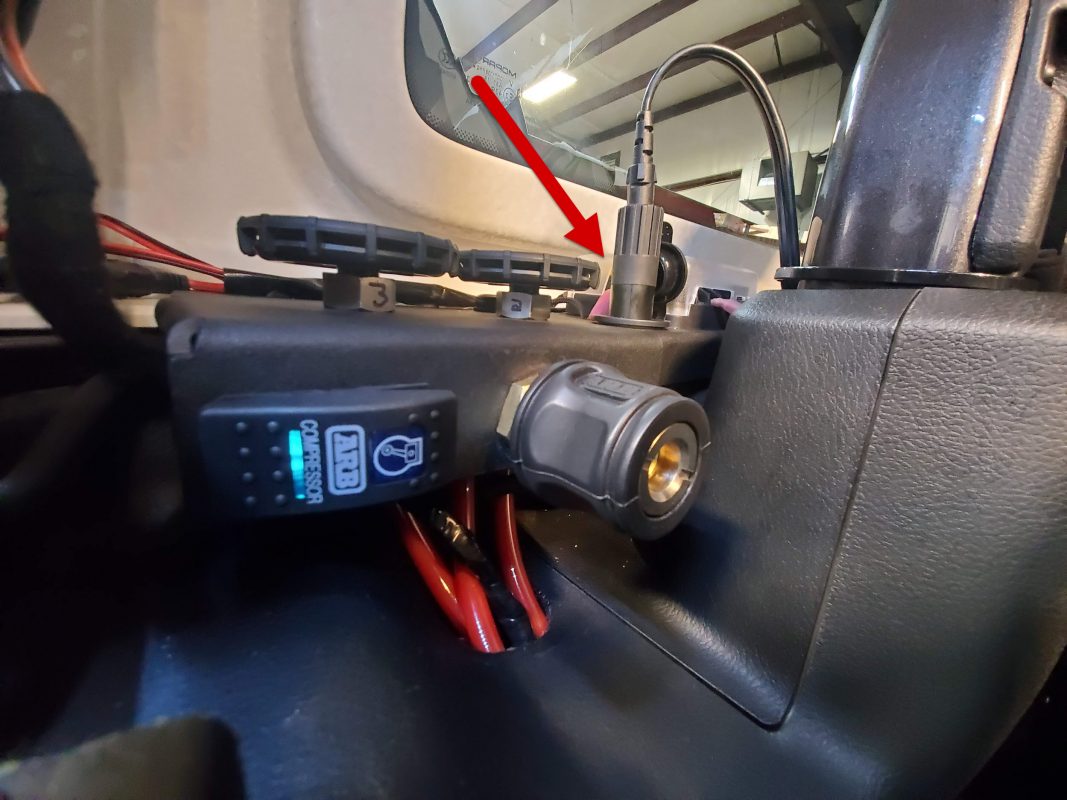 Vertical 12V Receptacle
But wait, there's more more!!! Also built into the remote bracket is a 12V receptacle mounted vertically. This receptacle is intended for those long fridge cords that protrude into the cargo compartment when they are plugged into the OEM rear auxiliary port. By mounting it vertically, the long end of the cord is not in the way of the cargo area.
Kit Contents
The kit ships with the following:
Aluminum bracket
ARB quick coupler
ARB 3-meter long braided steel high pressure hose
(2) 3′ sections of MettleAir flexible air hose
(2) Bulkhead fittings for filters
(1) Bulkhead fitting for coupler
(4) Brass 90 degree fittings
(4) Straight Push-lock fittings