See our "Lead Time" page for current and estimated Lead Times.
Due to the configuration of the under-the-hood components of the new Jeep JL, there is no longer room to mount a Dual ARB air compressor. Our solution to that problem is to mount the Dual ARB Compressor in the sealed compartment below the cargo area. This has the following benefits:
Keeps everything dry
Sound insulation – very quiet during operation
Concealed – keeps the compressor eye candy away from prying eyes
Proper use of space – most of the time when hauling cargo, it would be very tough to get to anything stored in this cargo compartment. For this reason, it makes sense to mount things in there that don't need to be accessed often. The compressor and battery are perfect for that space.
NOTE: If you purchase the Type A battery hold down bracket it is designed to be used with our M.A.S.S. Platform and will stick out above the OEM floor.
Caveat – If you plan on running your compressor for extended periods of time, providing some airflow will be beneficial. This mounting position pairs very well with our M.A.S.S. cargo platform. The platform allows for more than sufficient airflow and the aluminum plate acts as a large heat sink quickly dispersing the heat.
Battery Options
Due to the apparent long-lasting effects of people eating bats, we are having continuous supply chain issues with keeping batteries in stock. So, going forward, we are just going to link out to third parties for batteries. Below are the batteries for which we build hold-down brackets.
Type a
Dimensions:
Width: 5.31″ (135mm)
Length: 8.8″ (223mm)
Height: 7″ (178mm)
Below is a list of batteries we have verified to fit in this mount. We will add more batteries to this list as we learn about them.
Type b
Dimensions:
Width: 7.17″ (182mm)
Length: 3.07″ (78mm)
Height: 6.46″ (164mm)
Below is a list of batteries we have verified to fit in this mount. We will add more batteries to this list as we learn about them.
Odyssey PC1100
Dimensions:
Width: 3.8″ (95.5mm)
Length: 9.8″ (223mm)
Height: 8.1″ (205.7mm)
Below is a list of batteries we have verified to work with this mount. We will add more batteries to this list as we learn about them.
ODYSSEY PC1100 (no link to this one yet)
Design Update!
Keeping with the "Lab" theme, we are constantly improving our products. This update moves the battery about an inch rearward making more room for wiring. This should make wiring even easier. We also now have an optional bracket to mount the REDARC BCDC 1225D, along with holes pre-cut for the REDARC fuse kit. We sweat the details so you don't have to!
These changes are shipping now!
Interactive CAD Model
Just Released – Remote Kit with Built-In Voltmeter and Status LED!
To make everything easy to access and completely tucked away, we developed our ARB Remote Kit (separate product from the bracket on this page). This brings a ton of features to the easy to access area of the Jeep JL right behind the C-pillar (driver rear). This is a great complimentary product to the Dual ARB Compressor Bracket on this page.
Learn More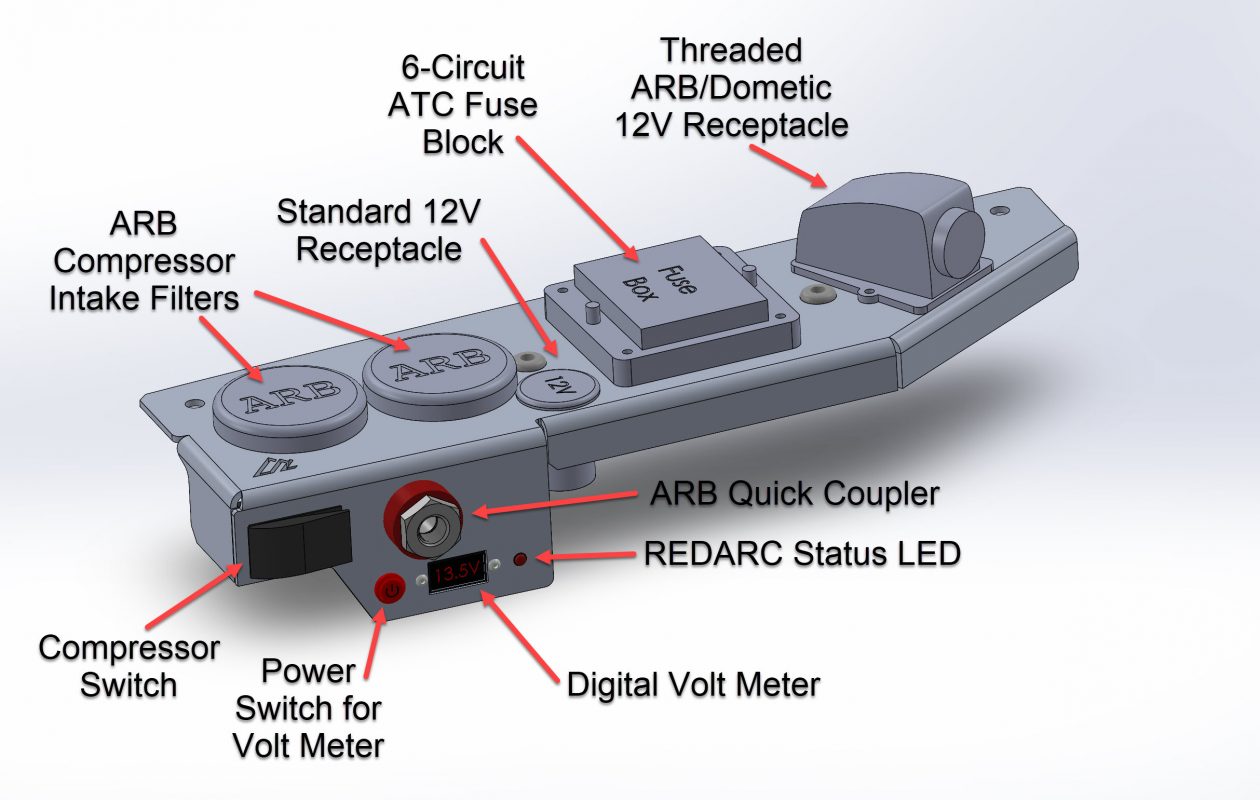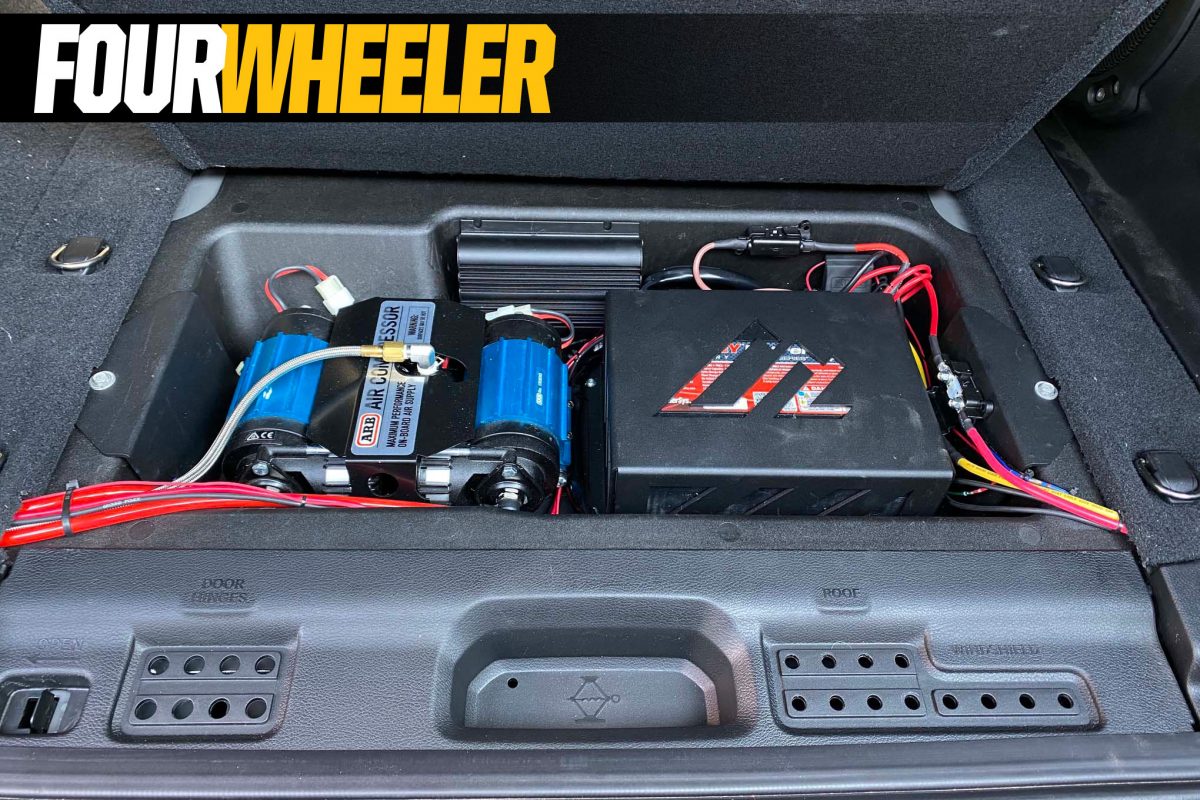 In-Depth Install by Four Wheeler
Sean Holman, of Four Wheeler, did a very thorough installation of the complete compressor, auxiliary battery, and remote kit package. He did a great job of explaining the benefits of this system as well as the steps required to get it all connected. Check it out if you have a few minutes. It's a very educational read.
Take Me to the Install article
100% Made in the USA
As our company name proudly suggests, all of the products we build are made right here in the USA. This one is no exception.
This bracket is precision laser cut by a fiber laser and maintains a .005″ tolerance on all cuts.
The tray is held into the cargo compartment of the Jeep JL using two OEM bolts and existing threaded holes. No drilling is required to mount this bracket.
The battery tray is held down using 8 metric allen bolts.
Efficient Use of Space
This bracket makes use of every ounce of space in the Jeep JL cargo compartment. Holes are pre-cut to offer endless opportunities to secure your wiring, hoses, etc.
The battery box is extremely secure and has multiple slots cut into it to help aid in cooling. We even cut into the bottom of the tray to allow for that extra little bit of airflow to the battery.