With the world now able to come out of its shell a little, we are finally able to get back into groups and explore the desert. The first major group event of the year for me was the 2021 Centerforce Adventure Run. I couldn't be happier to participate in an event with such a unique theme. All (well, most) of the vehicles would be equipped with a manual transmission, and in my case, also equipped with Centerforce's weighted flywheel. With the added "slipability" of the Centerforce clutch and the extra low end torque of the weighted flywheel, this the best manual transmission feel I have ever had off road.
I can't think of a better way to torture test clutch products than to put together a pile of heavily loaded vehicles and run them through the hills and rocks of Arizona.
Let's Do It
We kicked off the ride by meeting at Fry's in Peoria, AZ, which would be our last chance for supplies and fuel before hitting the trail. This was our first chance to get to see all of the rigs that would on the ride with us, and it was definitely an experienced group! Shortly after pulling out from Fry's, we made our way to Lake Pleasant to finally hit the desert. Here, we aired down and put our vehicles into "adventure mode", which is a fancy way of saying, "storing everything for bumpy roads."
"Product Testing"
There is no better way to put our MASS components to the test than to bounce through the desert for several days. Putting our new Lo-Pro Triple Slide to the test was a great added benefit to this trip. It performed flawlessly!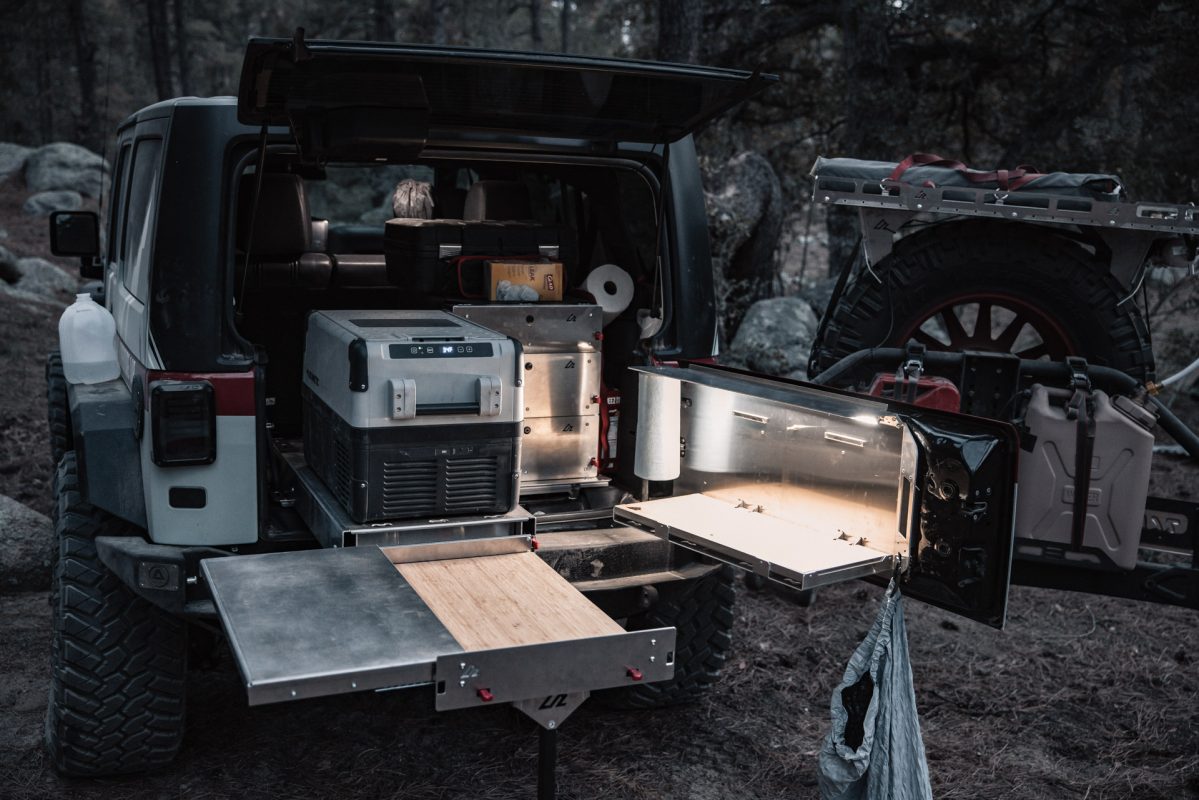 Here is the entire route. Unfortunately, I didn't realize my Gaia app was setup to pause the recording after being stationary for a while. So, for future reference, check to make sure your app is recording each day when you get started. That's why there are a couple of gaps in the route. You get the idea, though.
The Trail to Crown King, AZ
Our camp spot for the evening of Day 1 would be Crown King, AZ. I had never even heard of this place before this event, but it turned out to be an amazing and very secluded old mining town. The process of mining and mining life has made it to the top of my curiosity list as of late. The hardships endured by the miners and even some of their families really put things into perspective for our lives today. I have a ton of respect for what they did to build the foundation of our current society. It's great to get a slight glimpse of what their lives were like in these quaint towns.
The views and trails along the way to Crown King were amazing as well.
The highlight of the day just might have been Ali (@katethejeep) cooking dinner over the open fire! Huge thanks, Ali! It was amazing.
Day 2 – Mayer, AZ (Creek Bed Camping)
The trails and route for day 2 took us through a great wash. The trail was called Turkey Creek and featured some amazing views and a few slightly technical spots.
The day ended at what was supposed to be a nice camp spot. Unfortunately, the nice camp spot turned out to be a creek bed. Score one point for the roof top tent versus the ground tents! Unfortunately, we were ground tent'ing. So, I spent about 30 minutes trying to level/smooth a spot for two ground tents. Thankfully, it worked out great and we all slept amazingly well.
Marco, of OverlandX, cooked some amazing tacos for dinner. I'm pretty sure we all ate better on this trip than we do when we're not off road. Mason is a super picky eater and he loved them. That's saying something. Thanks again, Marco!
On Day 1, we had an issue with a rear brake caliper. I was able to clamp it off and wheel without issues, but thankfully we were able to reach out to a local Jeep shop, Summit 4×4. These guys went waaaaaay above and beyond to get us fixed up. They picked up new parts from a local parts shop, loaded up all the tools, fluids, new brake line, and pads and met us at our lunch stop (Cleter Yaght Club). They wouldn't even let me lend a hand so I could eat lunch and not hold the group up. I couldn't believe what all they went through just to help out a fellow off roader. Thankfully, these guys just picked up a new JL and were already interested in a few of our products. Stay tuned as we fully outfit their new JL with all of the AAL goodies they will let me throw at them. I have been fortunate enough to meet a ton of the "good guys" in the off road world since starting this company. Jesse and JP rocketed to the top of that list for me. I am very much looking forward to working with them in the future. Their knowledge and desire to help is exactly what we look for in our dealers.
Due to a slight change in the route, we were limited on our sleeping locations for the evening. We put it to a vote and ended up in a tight creek bed. It turned out to be a great spot! Here's a little walkthrough of everyone breaking camp on the morning of Day 3.
Day 3 – Back to Society
The third day on this trip would be a pretty short one with some more amazing scenery on the way out. We also came across an interesting find – a Chrysler 300 which turned out to be not quite as amphibious as the driver hoped. #DesertLife
Centerforce Tour!
The event culminated at the Centerforce world HQ for a no holds barred tour of their operation. Being a process and manufacturing geek, I am always way too overly excited to see behind the scenes of companies who have been as successful as Centerforce over the years. The amount of technology and craftsmanship they put into their product line is the reason their products lead the market. Huge thanks to Will for allowing me inside carrying a camera. The transparency and welcomeness of the entire Centerforce crew was extremely refreshing.
Until the Next Time!
I can't say enough good things about this event. The crew assembled by Centerforce made for a very entertaining three days out in the desert. Everyone was fully capable, well prepared, and ready to party! Huge thanks to Will, Blair, and the Centerforce crew behind the scenes that made this all possible. It was truly an event creating lifelong memories.