The COVID pandemic has made a few things very evident.
Demand for our products has exceeded all expectations
Working on everyone else's timelines is not a winning strategy
To meet the demand, we need to vastly increase production
In order to meet this demand and provide a better product in a shorter amount of time, I decided to bring in our own laser and press brake. With the addition of these two machines we'll be able to further refine our products by:
Reducing ECO (Engineering Change Orders) iteration time
Develop more efficient ways of building/assembling our products
Be VERY efficient with material usage
Experiment with varying material thicknesses in even more applications than before
The expectation is that we keep inventory-on-hand pretty lean, but very broad. Meaning, we'll have fewer large quantities on hand, but more SKU's will be in-stock overall.
So, how do we accomplish that, you say? Enter in our new 6k Fiber Laser, a Mitsubishi GX-F Advanced, the world's first "Artificial Intelligence" powered laser. With the unique ability to monitor the cut in real-time by watching the sparks fly (seriously) and by listening to the sound of the cut, the robots within can tell if the cut is efficient. Having the ability to instantly react to less than ideal conditions helps to reduce waste (mistakes) and cut overall production time.
Part of the core mission statement at AAL is that we will continue to push the boundaries of manufacturing. Up until this move, that was mostly just a desire. Now, it's an imperative!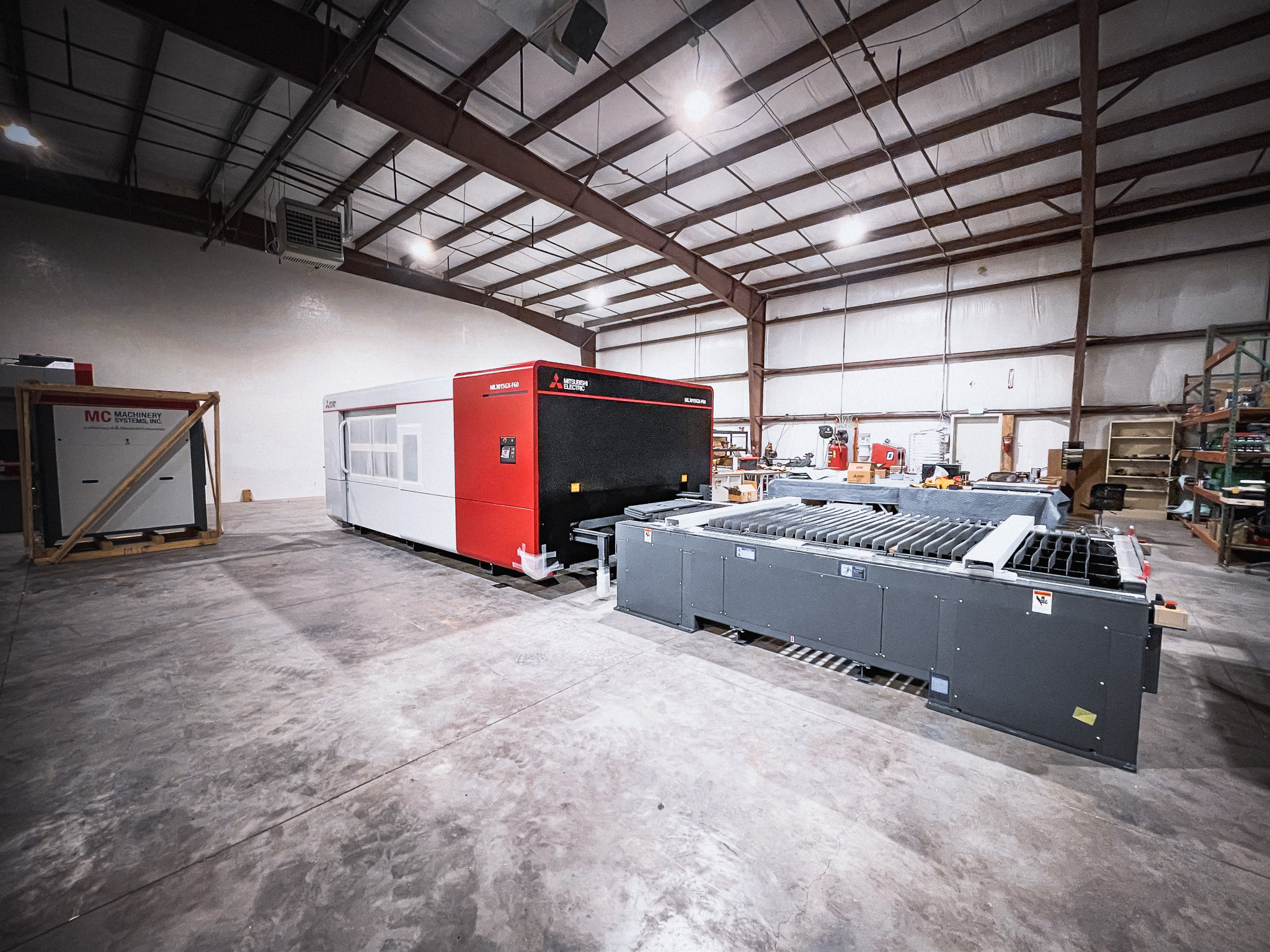 Mitsubishi GX-F Advanced
The world's first Artificial-Intelligence Powered Fiber Laser
We have also upped the game with our cutting gas system. This machine is specifically built with cutting gas efficiencies in mind, which includes high-pressure "shop air". We will be cutting most of our materials with "shop air" which means we won't be down waiting on gas deliveries or be burdened with high gas costs. Yes, the compressor system was far from inexpensive, but the boost it will give to cut quality and speed far outweighs the monetary cost.
Not only are we going to cut with amazing quality, accuracy, and efficiency, we'll also be bending with extreme accuracy as well. Enter the Diamond BH3530, also by Mitsubishi. With variable FF-Axis, Dual-Drive technology, and the Videre Operator Support System, this press brake will be just what we need to stay repeatable over multi-stage bend programs, full-length bends, and complex multi-bend flanges.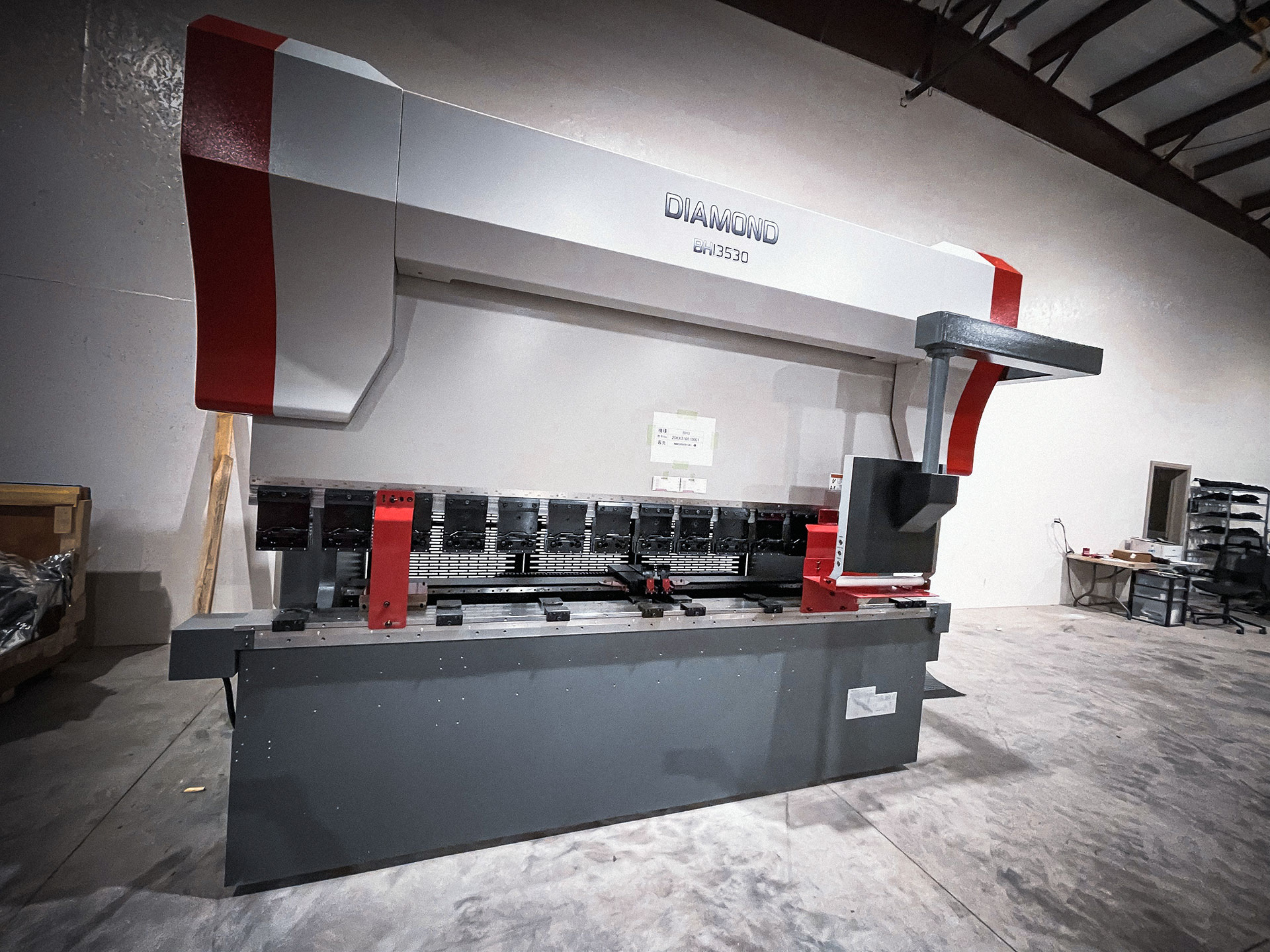 Mitsubishi Diamond BH3530
Hybrid-Powered CNC Press Brake
We put together a video of the very intense "unboxing" process. Seriously, when that brake was dangling from a rigging strap that weighed about 30 lbs., that was the most nervous I have been in my entire life.
To stay efficient with floor space, we are putting most of the laser's accoutrements on a mezzanine above the laser itself. The mezzanine buildout will look like this.
The Mitsubishi team will be on site starting January 17th through the end of the month tuning the machines and training. We'll also be incorporating software from Mitsubishi and Ncell, which will also greatly help with efficiency.
2022 will be an amazing year for the team here at AAL. After each big step we make as a company, I reiterate this phrase, "We're just getting started!"