Introducing the Bronco MASS Roof Rack Rails: Unmatched Durability and Sleek Design!
Upgrade your Bronco with one of the lightest and most modular rack rail systems on the market, meticulously crafted from premium 5052 aluminum with steel supports. Designed to add very secure external storage options, this roof rack is the perfect companion for all your off-road adventures.
Strength and Durability: Crafted from high-grade 5052 aluminum, known for its exceptional strength-to-weight ratio, this roof rack is built to last and resist corrosion. The steel supports provide additional reinforcement, ensuring maximum load-carrying capacity and structural integrity. You can trust it to endure rough conditions, rocky trails, and any challenges your journey throws its way.
NOTE: Ford's Limits the Bronco roof to 125lbs. A Roof Top Tent will not work with these rails alone. More exciting news on this to come in the future with additional components!
Another note: if you select "raw/unfinished" you will want to at least coat the four steel rails and four nut plates in something (ex. spray paint)  to prevent corrosion.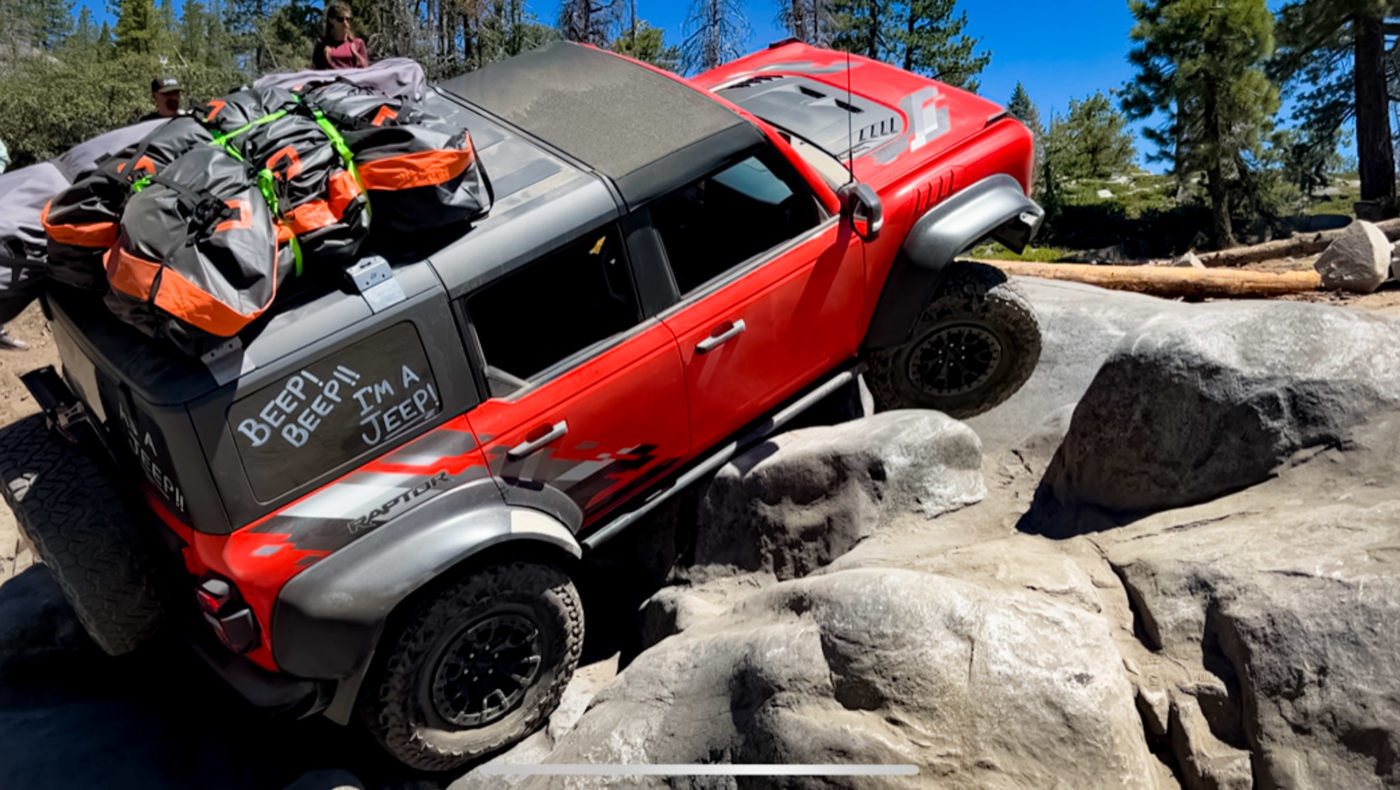 Field Tested (ie. "abused")
This product started out by a request to build a light weight yet sturdy roof rack for extra gear storage. To see the entire creation process take place on video, check out the Litebrite Nation video. You'll also get a peek into our shop and our design process.
After the rack was installed, it was immediately loaded with gear and pointed to the Rubicon Trail.
(Video link will be applied on 8/6/2023)
EASY INSTALLATION
Easy Installation: Installing the Bronco Roof Rack is a breeze! Utilizing the factory locations, it securely bolts onto your Bronco without the need for any modifications. Say goodbye to complicated installations and wasted time, as you'll be hitting the trails in no time with this user-friendly roof rack. Install time is about 5 minutes (approximately 10 minutes assembly time).
Are you looking to haul all your gear on your next adventure but don't have enough interior space? No problem! Our Bronco Roof Rack Rails can carry anything from camping equipment and tents to a platform for some future products, ensuring you never have to leave your gear behind.
STREAMLINE DESIGN
Streamlined Design: Not only is this roof rack rugged and strong, but it's also designed with aesthetics in mind. The sleek and streamlined profile complements the rugged beauty of your Bronco, giving it a bold and adventurous look while reducing wind resistance for a smoother ride.
Keeping the top mounting surface as low as possible ensures proper application of force on the mounting brackets, reducing the stress applied to the hard top.
VERSATILE :: FLEXIBLE
Our Bronco MASS Roof Rack Rails offer unparalleled versatility. Customizable mounting options allow you to attach various accessories, like lights, awnings, ground tents (ex. Sleeper Keeper), tailoring the rack to your unique needs and preferences.
Gear up for the ultimate off-road experience with the Bronco MASS Roof Rack Rails, the perfect blend of light weight, strength, durability, and versatility. Embrace the spirit of adventure and explore the world with confidence, knowing you have a roof rack that can handle anything you throw its way! Upgrade your Bronco today and discover a new level of freedom in your adventures.
Ultra Low Weight
By using vertical flanges on the rails, cutting out a large amount of material, and using steel only where absolutely necessary, we are able to produce an extremely structural cross member and still keep the weight EXTREMELY low.
Weighing in at ONLY 8.3lbs for each rail, this is one of, if not the, lightest roof rack on the market. The steel connecting plates ensure extreme strength as well, making a super efficient combo – low weight and strong!

Modular, by Design!
Every millimeter of this roof rack is purpose built to serve as a firm foundation for expanding functionality. As your needs change for each adventure, so can your Bronco's MASS Roof Rack. We are developing several modules now with endless modules to come in the future.
Built into each rail are multiple cutouts that are 2 holes of the L-Track standard pattern. This allows for use of multiple L-Track attachment components.
Shown here are the Single Stud Ring Connectors and Ratchet Straps with sewn-in Single Stud Ring Connectors. Endless gear attachment methods!